A wall is a wall, right?
You are a smart consumer. You do your research before a purchase. You check reviews, maybe even do some "shopping" for a hands on inspection.
When you decided to improve your landscape you started on the World Wide Web like we all do. You checked out company websites, reviews and portfolios.
You did your homework and now you have 3 quotes, from 3 reputable companies (so you believe), all for the same work; or is it?
Why is one proposal so much more expensive?
There are a number of reasons why one may be significantly more. For example:
Apples to Oranges. Be absolutely sure that everyone is bidding the same thing. For example, which paver variety is quoted. There are concrete pavers that are $3 per square foot and those that are $15 per square foot. If you have a 200 square foot patio as part of your project, then a difference of over $2K would be understandable. Or, what if a landscape lighting plan is being installed? You are dealing with reputable companies so they are not using big box quality fixtures (or are they)? But, if one company quotes a high-quality or energy saving system, it will be much more expensive.
The lesson: read the quotes carefully. Ask for more information if you need it.
Demand. It's simple. You call 3 landscapers in April. Two are scheduled out to the middle of July. The third is scheduled through August. He will probably not be quoting very aggressively- and his price will be higher.
Overhead. Every company is different. Growing companies have usually taken on debt to finance growth. Large companies may have layers of management, provide more benefits to employees, and larger marketing budgets. These kinds of companies can be competitive on price- as long as the project is large enough. But smaller jobs- under $5K- can be difficult for them to do profitably. They have no choice but to be expensive on smaller projects.
Quality. It can be very hard for most people to know how to compare the quality of work that landscapers do. Some companies design and build beautiful gardens- beautiful gardens that are a train wreck. The drainage, irrigation, lighting, retaining, etc. all begin to fail or require repairs far too soon after installation, however, you can't see that in a portfolio picture. Certain types of landscapes are more susceptible to this kind of pricing disparity. For example, custom stone work prices can be all over the map. Why? Details.
Coastal approaches hardscape work in a very specific way. Large pieces are laid out first, then smaller pieces are fit in without any cutting, if possible. When cuts are needed for consistent joints, we then chip the cut edge so that it looks natural. The result is fantastic- but time consuming; this is reflected in the price.
If one landscaping company is giving you a lot more detail about a particular element of your project than the other companies are, they might be trying to tell you something important!
Why?
It may be the company, the time of year, the project, or just a communication issue- but there is usually a good reason for the difference. Know as much as you can about your project, the companies who are bidding, and your priorities. This will give you the ability to wade through the proposals, descriptions, designs, and prices to find the right company for your landscape.
Should you accept a low bid?
Like most contractors, landscape or otherwise, we commonly submit a quote knowing that a couple of our competitors are, too. Once all the quotes are in, the potential client has a decision to make: who to hire.
Most of us are drawn to a deal. If three companies all promise to provide the same landscape service, why not just hire the cheapest?
As a consumer, how can you know if you should hire the low bidder? Here are a couple things to consider that might make the process easier.
Be sure that all the quotes actually offer the same things. Look at specific, not general scope.
With your landscape quotes consider what is truly being offered. If a low voltage lighting system is included ask: What kind of fixtures? (big box store or commercial quality?) What kind of bulbs? (Halogen or LED?) Does the company include a warranty, and what does it cover?
Two landscape contractors can both offer you a stone wall or lighting system but what are really getting? Answering that will help you decide in line with your priorities and budget.
How Much Skill Is Required?
For some things, the low price just makes sense. Oil changes are pretty simple. If I get a good coupon I am going to use it. When my transmission needs work? Price is not the main concern- I need it done right!
Are you having a clean up done, a lawn mowed, or leaves raked? It's not that these things take no skill, just not as much. Price should probably be a factor in your decision making.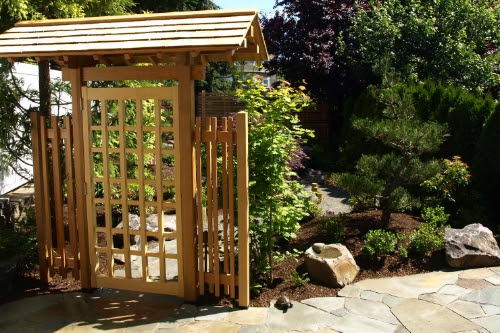 Could the low bidder bring the quality you want?
Is a concrete paver patio, stone work, or custom design part of the plan? Now the decision is not so clear cut. All of these require knowledge, skill, and artistry. What level of craftsmanship does each contractor bring to the table?
What level of artistry are you looking for?
Look at the companies' portfolios. If you are embarking on a large, or especially challenging project, it might be nice to actually visit a completed job. This is really the only way to know what you are going to get.
If you want a "Mercedes" landscape make sure you don't hire someone installing "Toyotas"!
How To Choose A Landscaping Contractor?
There is no "right" answer. Know what you are looking for. Know exactly what is being offered. Know how much skill and artistry is needed. Then you can decide- take the low bidder or not.